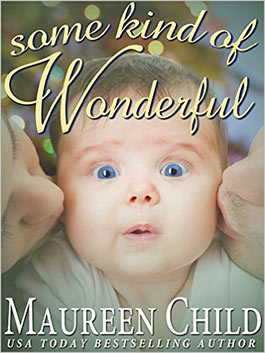 Some Kind of Wonderful
What would you do if you found a baby?
 A heartwarming story from bestselling author Maureen Child. Late one night in Christmas, California, Carol Baker sees unexpected movement in the manger of the year-round nativity scene. A real baby! Alive. Abandoned. With the help of the handsome local sheriff, Carol will care for the precious newborn until her mother can be found... but what then? Will Carol be forced to give up the two people who are beginning to feel like family?
Praise for Some Kind of Wonderful:
"Child deftly invokes the full range of human emotion in this contemporary romance set in the determinedly festive town of Christmas, California...thoroughly satisfying." Lynne Welch, Booklist