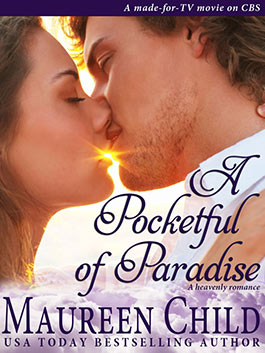 Pocketful of Paradise
Also published as The Soul Collector, which was produced as a movie on CBS TV…
Beautiful young widow Rebecca Hale is too busy caring for her young son and their Colorado ranch to admit to the loneliness that keeps her awake at night – until the arrival of a mysterious, dark-haired stranger with heavenly blue eyes. The cowboy has no horse, no last name… and no memory, or so he claims. He may not remember how to ride, but he certainly hasn't forgotten how to kiss.
To teach him compassion for the people in his charge, Zacariah is sentenced to live one month as a human. As a Soul Collector, a being who escorts souls from earth to the afterlife, Zack insists it's not his job to coddle the souls who light candles to keep him at bay.
But Rebecca is...different. She makes him feel true emotions for the first time. Shows him what life really is. Makes him wish that he could stay. Except, his month is running out. He'll have to leave soon and when he does, he will be taking a soul with him.
Whose? Rebecca's? Her son's?
No matter what happens, at the end of his month on earth, Zacariah faces an eternity without the woman who made him believe in love.