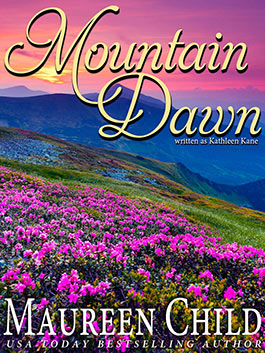 Mountain Dawn
"Many an honest heart beats under a ragged coat." – Irish proverb
Though Bridget Dugan may be as poor as an Irish church mouse, she's always been honest. . . until a chance to save her dying mother forces her to break the law. Desperate and on the run, Bridget boards a riverboat heading into Montana Territory, where her soft heart is moved by a young girl with sadness-shadowed eyes – and the girl's handsome and protective father.
Determined to heal his daughter's wounded soul, Jacob Fallon has accepted a job as Marshal in the mining town of Treasure Gap in order to give her a new life. He's thrilled to see the little girl smile for the first time since her mother's death, until he realizes the reason for her smile – a fiery redhead with sparkling eyes and a sassy tongue. Bridget makes him yearn for things he doesn't deserve, things like long, slow, passionate kisses.
When Jacob hires Bridget to care for his daughter, his reluctance to fall for her fades under the warmth of her laughter. Joy turns their house into a home, and love transforms them into a family. But how will the lawman react when he realizes that the woman who brings such happiness to him and his daughter is a fugitive? And that she's been lying to him since the moment they met?