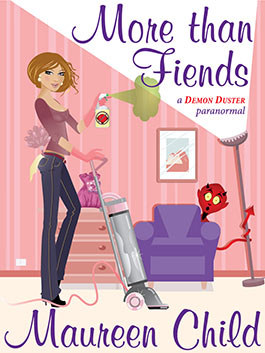 More Than Fiends
Demon Duster Book 1
Can she save the world and cleans toilets, too?
Worst. Birthday. Ever. Cassidy Burke's dog ate her breakfast, then her ancient washing machine finally died. Oh, and Logan Miller is back. First love, baby daddy to her genius daughter (won't he be surprised?), still so handsome he makes her hoo-hah tingle. Which is exciting but confusing because she's also getting serious flirting vibes from her latest client, Devlin Cole – a tall, dark, walking, talking orgasm.
So forgive her if she's not exactly thrilled when a strange old lady barges into her house and insists that Cass's destiny is to hunt demons. A., she doesn't want to hunt demons, she wants to clean houses (and she doesn't really want to do that). And B., there's no such thing as demons. Except… they seem pretty real when they're coming after her.
As if running a business and being a single mom wasn't enough, now she has to train to become a kick-ass Demon Duster, decide which hunk to do more than flirt with, and – oh, yeah – dodge the demons determined to kill her before she taps into her full power. All in a day's work…