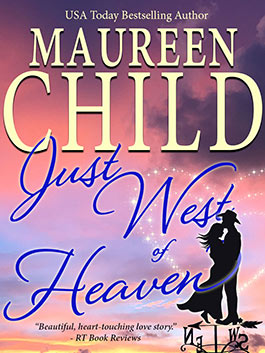 Just West of Heaven
Generations of Dolan women have been blessed—or cursed—with the "sight," but none more so than four-year-old Jenna. To save Jenna from their wicked stepfather's greedy clutches, spinster Sophie Dolan kidnaps her little sister, poses as a widow with a young daughter, and accepts a job as schoolteacher in rough-and-tumble Tanglewood, Nevada.
To Sheriff Ridge Hawkins, the world is black and white, wrong and right, and nothing in between. If he gets wind of a kidnapper in his town, Sophie will lose the little girl she loves… and her freedom.
Ridge knows the fiery redhead is wanted—by him. In fact, she's everything he ever wanted: strong, loving, and as passionate as a man could wish for. But when he discovers that Sophie is a virgin, and not Jenna's mother after all, he goes on a hunt to discover what else she's hiding. Will Ridge have to choose between the woman he loves and the law he believes in?
Praise for Just West of Heaven:
Nominated for Best Historical Romance Love and Laughter! "Generously peppered with laughter, poignancy, and multi-dimensional characters…beautiful, heart-touching love story." – RT Book Reviews