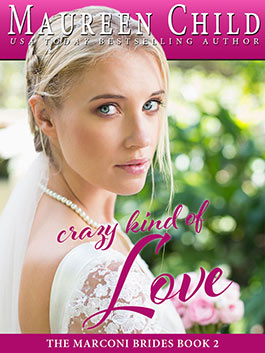 Crazy Kind of Love
The Marconi Brides Book 2
Michaela 'Mike' Marconi never meant to become a stalker. It just sort of happened after gorgeous, infuriating researcher Lucas Gallagher bought land meant for her and then started building her dream house! She can't help it if he's doing it all wrong. Someone has to show him the error of his ways.
For two months, Lucas has been frustrated—and turned on, damn it—by the most irritating plumber he's ever met. Curing cancer isn't as hard as putting up with Mike's busybody ways… especially when all Lucas really wants is to get busy with her body.
When the two give in to their passion, their world is rocked to the core. But that's not the only shake-up in store for the close-knit Marconi family. Can their love withstand the storm?