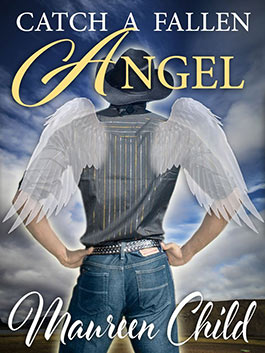 Catch a Fallen Angel
A heavenly Western romance from the USA Today bestselling author of This Time for Keeps…
Gabriel Donovan was no angel. He'd gambled a little—okay, a lot—but still, he didn't deserve to be hanged. After he died, the devil offered him a deal he couldn't resist: if he'd capture the soul of the conman who'd set him up, Gabe could have two extra months of life.
For young widow Maggie Benson, nothing was more important than fitting in so her son could have a normal life. She wasn't sure how to feel about the arrival of the handsome stranger in Regret, Nevada. On the one hand, she welcomed his help in her struggling restaurant. On the other, suppressing her passionate nature grew more difficult every day that Gabe tempted her with an admiring glance or clandestine touch.
In all his wasted years, Gabe had never met a woman more alluring than Maggie. Soon, the gambler was facing the highest stakes of his life—if he gave in to the fire burning inside him, he might claim more than just her beautiful body—he might put her soul at risk. But can he resist his only chance at finding Heaven… in her arms?