March 2014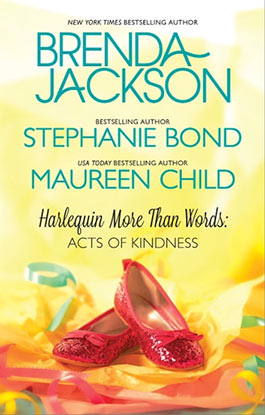 The Princess Shoes
in the anthology More Than Words
Three bestselling authors...Three real-life heroines
Every day, women in your community are working to make the world a better place. You may not know their names, but you probably have something in common with these real-life heroines: compassion for those who need a helping hand, and the desire to make a difference. Each year, the Harlequin More Than Words award is given to three women who strive to change people's lives for the better. Inspired by their accomplishments, three bestselling authors have written stories to honor these real-life heroines. All proceeds from the sale of the More Than Words: Acts of Kindness will be reinvested in the Harlequin More Than Words program.
Brenda Jackson explores the importance of family in Whispers of the Heart, the story of a father's struggle to recognize and manage his daughter's health challenges.
Stephanie Bond's It's Not About the Dress tells the tale of a wedding dress gone missing that leads a bride on a journey of self-discovery.
Maureen Child reminds us of the happiness and purpose that even a youngster can find by putting her best foot forward in The Princess Shoes.