September 2001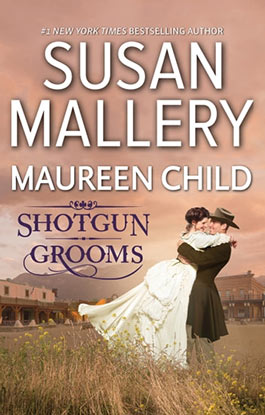 Jackson's Mail Order Bride
printed in "Shotgun Grooms"
A 2-for-1 with Susan Mallery Brides Or Bankruptcy—The MacIntyre Brothers Had A Helluva Choice!
Now, thanks to their cagey uncle's ironclad will, saloonkeeper Lucas MacIntyre was forced to find himself a bride. So he proposed a chaste businesslike "merger" to Miss Emily Smythe, a uniquely enterprising schoolmarm. But how could he keep them wed in name only when all he wanted to do was bed down with his bride in her brand-new inn?
And as for his brother....
The fur would fly sure enough when his bear of a brother, Jackson, woke up to find himself hitched to Miss Molly Malone. He'd thought surely she was mistaken. But delirious with fever, he'd unknowingly consummated their marriage. And the Irish firebrand was determined that their union stick "til death did them part"! Well, now he was guaranteed his inheritance, but what was the miner to do with a wife?